« Mobile | Main | Mozilla Thunderbird »
Saturday, February 02, 2013
Wednesday, September 19, 2012
Saturday, April 02, 2011
Wednesday, March 23, 2011
Wednesday, March 16, 2011
Thursday, December 23, 2010
Saturday, November 27, 2010
Monday, November 08, 2010
Thursday, October 28, 2010
Wednesday, October 20, 2010
Tuesday, March 23, 2010
Friday, November 06, 2009
Sunday, November 01, 2009
Sunday, October 18, 2009
Wednesday, July 15, 2009
Tuesday, April 14, 2009
Wednesday, December 17, 2008
The Ultimate Greasemonkey Script
Oh baby! Where have you been all my life!
Greasemonkey has always been a killer add-on for Firefox. Little scripts that work within Firefox to address many of the issues folks have with various websites. Simple things like adding easy to print pages to sites that have so many graphic ads that printing was a paper and ink nightmare.
The problem was that one had to go to the giant repository of Greasemonkey scripts at Userscripts.org search for the one that might address your specific problem and install it.
Well, a new script called Greasefire does all this for you. Once installed the Greasemonkey icon appears, in a slightly different form then you are used to, in the Firefox taskbar.

From then on if you browse to a site that any Greademonkey scripts that are related to it the icon turns a lovely shade of red.

If you then right-click on the icon it will further inform you of how many scripts are available. In this case our example shows the enormous number of scripts available at the uber-geek site slashdot.org.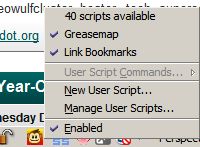 Clicking on the top line (the one indicating how many scripts are available) opens up a window giving descriptions of the scripts. Clicking the giant grey button on the right towards the bottom initiates the usual Greasemonkey install routine.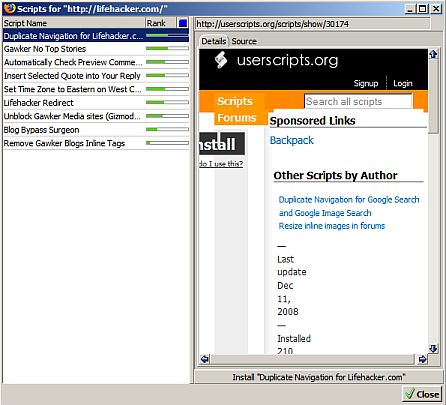 So, if you have not yet installed Greasemonkey and Greasefire get thee hence to Userscript.org and help yourself to some great Add-ons.
Sunday, December 14, 2008
Thursday, December 04, 2008
Saturday, September 27, 2008
Wednesday, May 28, 2008