« Mac Safari Browser | Main | Mobile »
Monday, January 27, 2014
Must have Google Chrome Extension
It appears that certain Extensions for the Google Chrome browser have been bought by evil type hoodlams who have used the trusted Extension to foist adware, malware and tracking codes. on users.
This is a bad thing.
Using Google Chrome, go to the Chrome Web Store and install the (free) Extension Shield for Chrome.
This will offer a measure of protection for Chrome until the issue is addressed in a future version.
Sunday, July 08, 2012
Last Chance DNSChanger Hotel
Come Monday, July 9, 2012, thousands of both Mac and Windows PC users will find their machines will be unable to connect to the Internet. The FBI plans to shut down the Internet servers set up as a temporary safety net to keep infected computers online for the past eight months since a piece of Malware called DNSChanger has been making the rounds.
If you practice safe computing you are probably unaffected. If you use Internet Explorer, don't know what a Firewall is, regularly download pirated software, use Peer-to-peer software to exchange illegal files, rarely if ever update your Operating System files, etc. then . . . umm . . . good luck!
To check your system for the DNSChanger Malware go here: http://www.dns-ok.ca/
If you're tagged as a victim go here: http://www.publicsafety.gc.ca/prg/em/ccirc/2011/in11-002-eng.aspx and follow the suggested ideas to clean your system.
Monday, June 04, 2012
Microsoft patches Flame malware
Bill has issued an emergency patch that addresses issues related to the malware known as Flame. While the actual Flame malware is no longer a threat the vector by which other malware could potentially allow attacks to succeed was not fixed until now.
This patch effects all Windows installations and should be downloaded and applied ASAP. Those who already have their installs set to automagically do this are likely already covered. Everyone else should check their Add/Remove Programs in Control Panel to ensure that KB2718704 is present.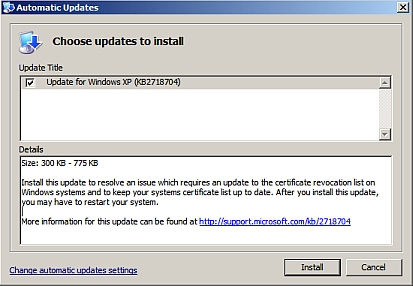 Once installed you will have to restart your Windows XP. Do not wait - do it immediately! Folks running Windows 7 do not have to restart.